Autumn is creeping in here at the Lilac Thicket. There are still a lot of trees that are green and we have had a few very chilly nights. There hasn't been any rain in well over a month so everything is dry, dry, dry. The squirrels are still gathering nuts and the leaves are blowing down the street into the Thicket.
This week has been a wonderful week, blessings around every corner. I have been teaching the Professor to drive a clutch and he is getting the hang of it. He likes to spin the tires and lay rubber at stop signs trying to get moving in first gear. On my way to work Friday, I spied some tire marks on the pavement that he laid the night before. It made me laugh.
The Professor is trying to get on in the local school district substitute teaching in hopes that it would help him get his foot in the door for a full time position. He just sprung on me the idea of him going to South Korea to teach for six months for $12,000. That is a big no from me, I don't think that is such a terrific idea.
I stitched today! I have discovered the light in the master bedroom is terrific during the day to stitch in. I pulled my computer chair in there and spread everything out on the bed and stitched! It felt good!
I made some Lemon Bars and they are okay but I won't make them again unless the Professor requests them. He really likes them but the ingredients aren't cheap, lemon curd about $4.50 and the angel food cake cake mix about $2.00. They are dense and the edges are hard and a bit dry.
I also made some Amish Sugar Cookies. They are really good. I would have liked to put a brightly colored sugar on top but I couldn't find my decorative sugars or my food coloring to make some. This recipe I will make again and the Professor gives them 2 Caribbean thumbs up. The cookie and the lemon bar cookie recipes are both on my Cooking with the Lilac Thicket and that link is up at the top on the right.
This upcoming weekend the Professor and I are going to take an overnight trip down to the Ozarks to view the beautiful autumn colors. He is excited and I am too! This will be the first overnight trip we have taken together. I intend on taking plenty of pictures!
The Professor had a busy day. He went and played football at church and even made a touch down! He explained he was open and they threw him the ball and were all surprised at how fast he could run! I married a football legend, the first Caribbean native EVER to do something quickly! He came home and he raked the leaves with the proper canine supervision of Rose, as witnessed by the above picture. When he came in I made him shower as he was a stinker and surprised when I pointed out his stinkiness. Why is it men never smell their own oh-dare?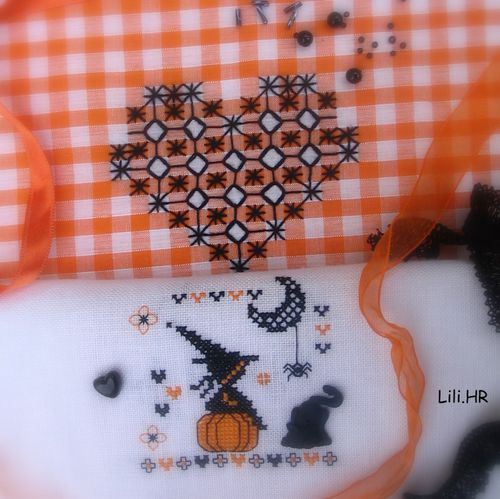 http://gtlilih.over-blog.com/article-elle-attend-86233887.html
You need to go to the above link and get this freebie, it is darling and I love the chicken scratch on the orange gingham!
Well it is Sunday night and I am tired so I am going to close this Thicket update and get ready for the feathers. God Bless us, everyone!